There's little question about the importance of 3D visualisations in today's design-driven fields; and how such fresh visual immersion holds major potential for companies worldwide. Photorealistic visualisation has become an essential tool in today's architectural, engineering, automotive and jewellery marketing workflows and it's easy to see why;
Interactive rendering solutions enable proactivity towards clients, customers and various audiences, through high-quality visuals and engaging promotional collateral from initial design through to the point-of-sale, leading to an increased web traffic, industry recognition and a chance for early adopters to shine out and outperform their competition.
We've taken a closer look at how Iray+ can become a great tool for design visualisation and creativity in industries as varied as architecture and BIM, all tiers of automotive or media and entertainment. No matter whether images are created for design departments, marketing teams or external stakeholders, when it comes to bringing concepts to life and creating deceptively realistic visuals, 3D artists deserve (almost) all the credit.
Although, we are experts in Iray+ technology, Lightworks has set out to interview independent 3D artists; engaged in the most different of industries and projects, working with the Iray+ plugin. Our aim was to explore and understand why this technology is indispensable when it comes to conveying creativity and expressing diverse visual ideas. This month we sat down to talk with Bernd Haier about his jewellery designs.
Rendering Jewellery with Iray+
Bernd Haier is a Germany-based CG artist, mainly engaged in architectural and constructional projects, with numerous years of experience in the 3D visualisation field. Coming from Freudenstadt, close to Stuttgart, he quickly developed an interest in 3D design and started experimenting with software such as Turbo Silver on his very first Commodore Amiga in the early days of computer-aided visualisation; scratching the very surface of photorealism.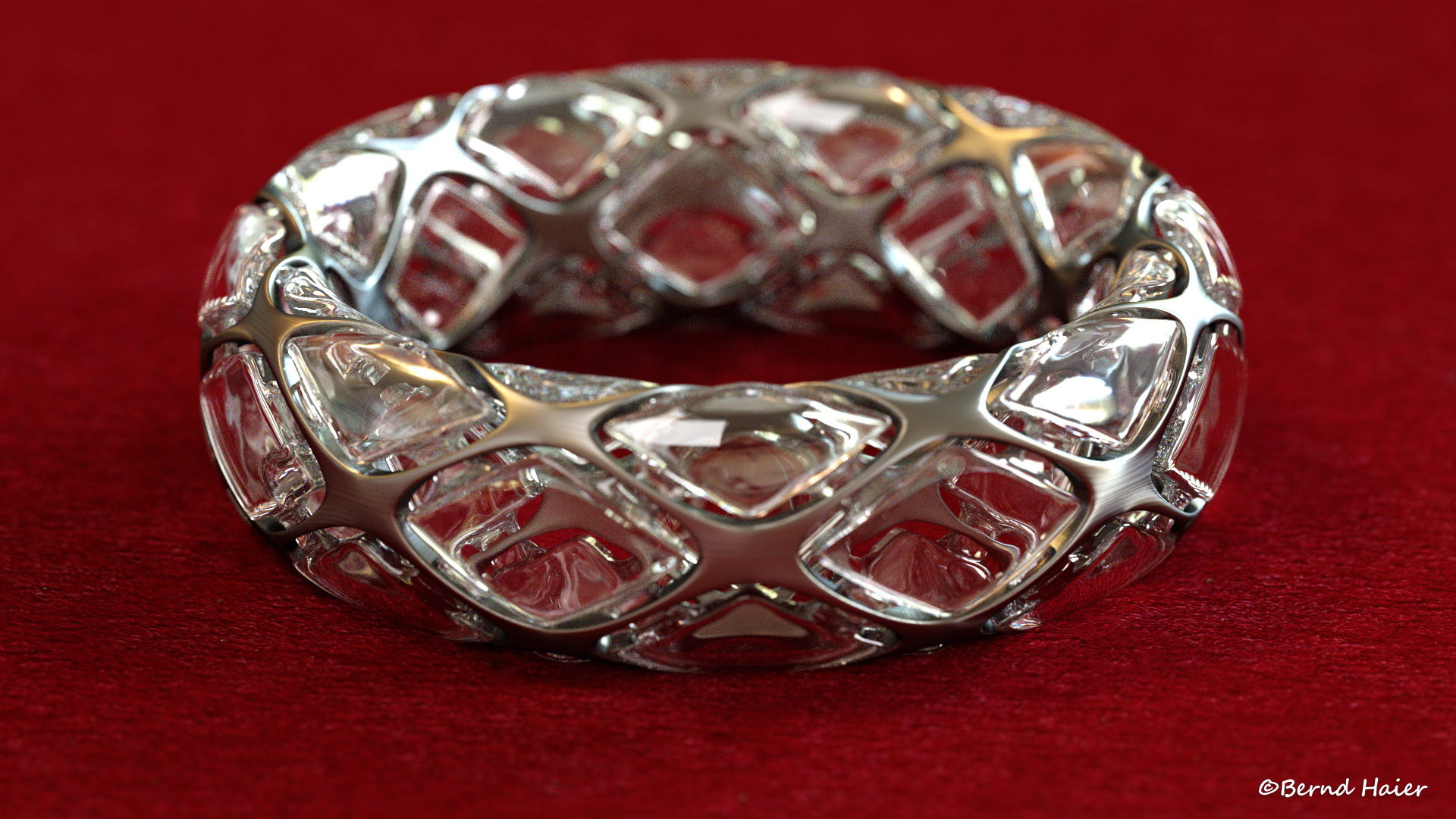 As of today, he mostly works with Autodesk's 3ds Max and blends his remarkable technical skills stemming from parametric architectural design, with a special fascination towards glass-made jewellery creations.
Bernd remains an ongoing enthusiast of this exceptional rendering technology and keeps on exploring its unique platform to fulfil his artistic vision. His fascination with GPU rendering – and Iray+'s ability to be scaled in performance across multiple graphic units – eventually led him to upgrade his workstation from his Quadro graphics card to three NVIDIA Titan X Pascal GPUs with increased cooling and a significant step up in performance.
When asked about his work and inspiration, Bernd eagerly explained that he approaches each jewellery project from a sculpting point of view and experiments by forming a complex shape with the help of Iray+'s rapid pre-rendering and the morph target animation tool in 3ds Max. In the next step, he creates a suitable material for his creation; by modifying and applying one of Iray+'s physically-based materials onto jewellery models created during the pre-animations.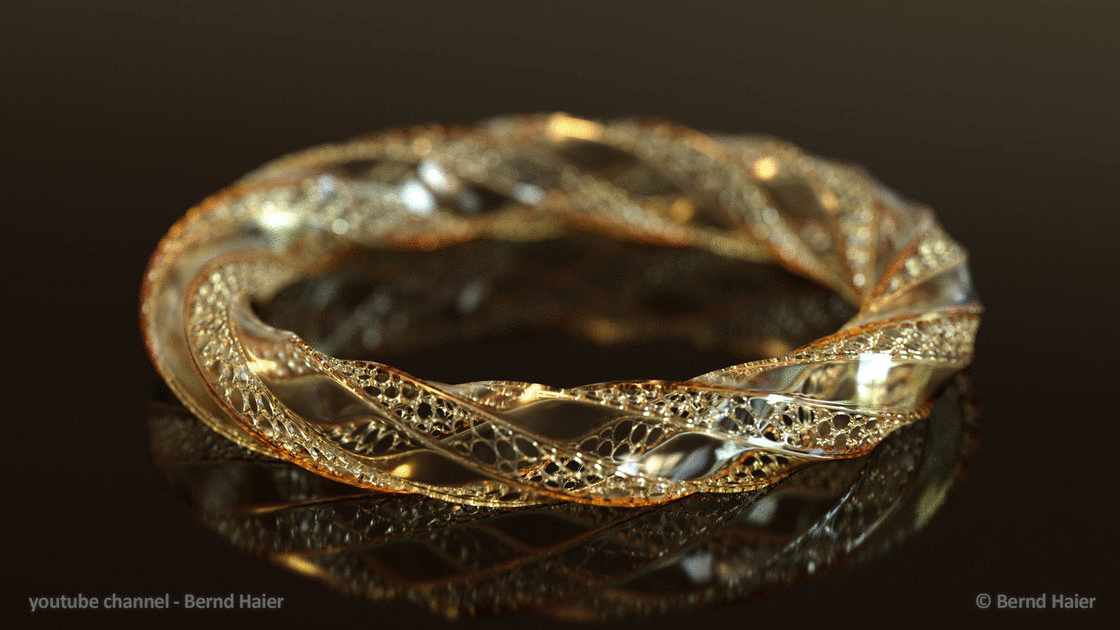 Iray+ allows for seamless, physically-based material exchange; to replace and export complex, real-world materials and move them to other applications with a few clicks while maintaining the appearance of custom textures and finishes throughout the entire workflow. This uniform user experience helps to speed up the creative process, eliminate risks and incorporate materials into the design process at any stage.
Jewellery animations, photorealistic light conditions and lifelike materials are key to Bernd's workflow. Apart from a plethora of custom-made Iray+ material, and the access to transferrable MDL (Material Definition Language) materials, Bernd explains that tone mapping can also be an excellent toolkit for a subsequent light setup. Physical Sky and IBL (image-based) light with HDRI images represent a "huge help when creating realistic lights, without the need to purchase and set up expensive light equipment for time-consuming photoshoots".