With the release of Cadalog's ProWalker GPU and Render Plus' Allura GPU plugins for SketchUp, we are pleased to introduce interactive photorealism and rapid, scalable GPU-accelerated rendering to one of the largest open design communities.
---
Those who are no strangers to 3D rendering technologies understand how much time and dedication it takes to realise CG projects with impeccable results. Producing high-quality visuals is crucial for artists and developers, so if you're just getting started with this emerging field of visualisation you might as well embrace the most innovative solution available.
In order to stay resilient and cost-efficient later on, your design teams should know how to craft physically-based materials to perfection and bend lights to achieve an eye-candy look; appealing to customers and clients alike. Luckily, this is getting more and more feasible thanks to rapid GPU computing, which has made a giant leap in recent years.
Ray-Traced Realism in SketchUp
We are proud to announce the integration of our cutting-edge 3D visualisation technology, Iray+ and interactive rendering into SketchUp's ProWalker and Allura GPU plugins; further extending the list of software products that support our easy-to-use rendering solution.
Integrating Iray+ into the ProWalker and Allura GPU plugins is a unique chance to bring high-quality GPU-accelerated 3D rendering and materials to the SketchUp community; a diverse base of like-minded individuals engaged in 3D, renders and animations created for work, education and leisure.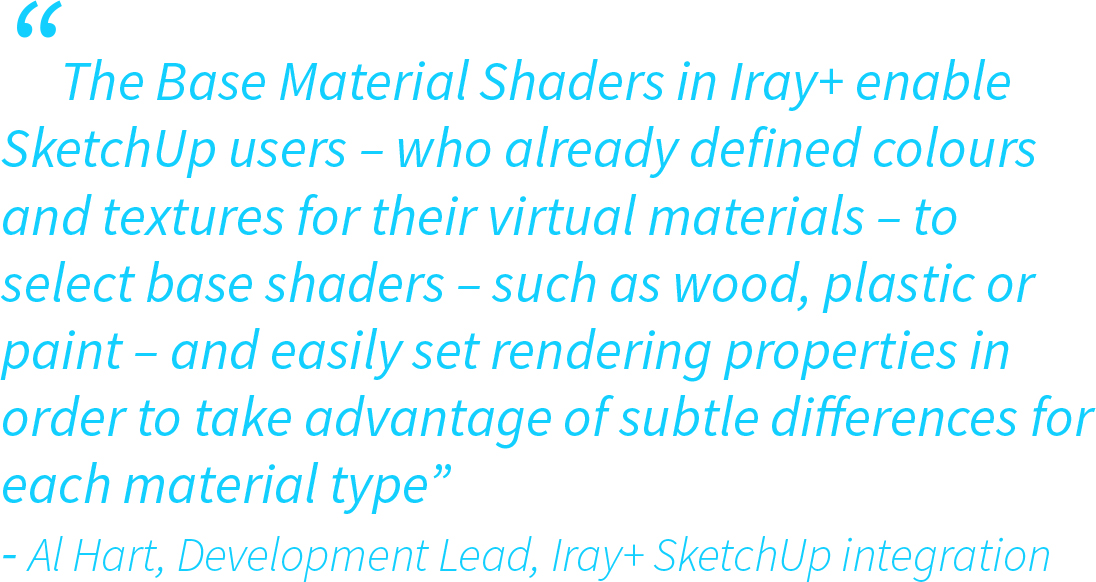 By Introducing Iray+ to the community, we aim to provide professionals across product design, jewellery and apparel design as well as automotive and countless other fields with an affordable and intuitive way to enhance their 3D visualisation capabilities. Whether you're creating animations, still images or high-end 3D imagery, these are some of the ways you can benefit from adopting Iray+ GPU rendering today:
Cutting Down on Your Costs
Let's face it; all tech companies keep an eye out for novelties. Faster rendering leads to quick design decisions – meaning an increase in creativity and perceived output quality – as well as lower hardware and electricity costs; considering that a single GPU equals the rendering performance of multiple CPUs on average.
Our new SketchUp integrations bring the benefits of rapid and feasible GPU rendering to those who seek a truly satisfying rendering experience, stunning visuals as well as thorough design and manufacturing decisions at any stage.
Streamline your workflow by equipping your team with more and more affordable desktop GPUs at a lower cost; rather than investing in arguably overpriced CPUs that would require your design applications and software licensing to be substantially recalibrated.
For architecture and engineering, adopting GPU rendering means fully-featured individual workstations, which are capable of simulating complex fabric, texture and building materials for better analysis and manufacturing decisions.
Elevating the User Experience
ProWalker GPU can be used as a standalone rendering plugin - such as Cadalog's earlier SketchUp-focused Podium Walker animation tool – or as a powerful companion for Cadalog's Podium Browser material library and component library so that users can quickly and easily create scenes, materials and animations without the need to rework existing content; including reflections, bumps or light emitting textures.
Easily customisable materials and lighting mean that users can change components such as transparency and reflection in predefined materials – like frosted glass or various types of metal – surpassing the OpenGL options previously available in SketchUp, thus presenting a tremendous opportunity for industries with rapid design iterations and complex material planning processes, such as automotive and architecture.
Speeding Up Your Workflow
GPU-accelerated computing – the process of leveraging the combined horsepower of your GPU and CPU – presents a tempting option for sectors such as engineering, analytics or deep learning. With 3D visualisation being no exception, your design, manufacturing and marketing departments could easily leverage thousands of GPU cores – as opposed to a few CPU cores – to process simultaneous workloads in a more efficient way.
GPU computing offloads graphics-intensive elements of your CAD application to your computer's GPUs; enabling a quicker rendering performance. You'll respond more rapidly to client demands and avoid rendering bottlenecks during design.
Creating 3D images, sales animations or interactive product turntables can be significantly faster compared to CPU renderers; enabling you to achieve photorealistic imagery through the use of physically-based light, materials and complex environments without considerable investments and hardware architecture changes.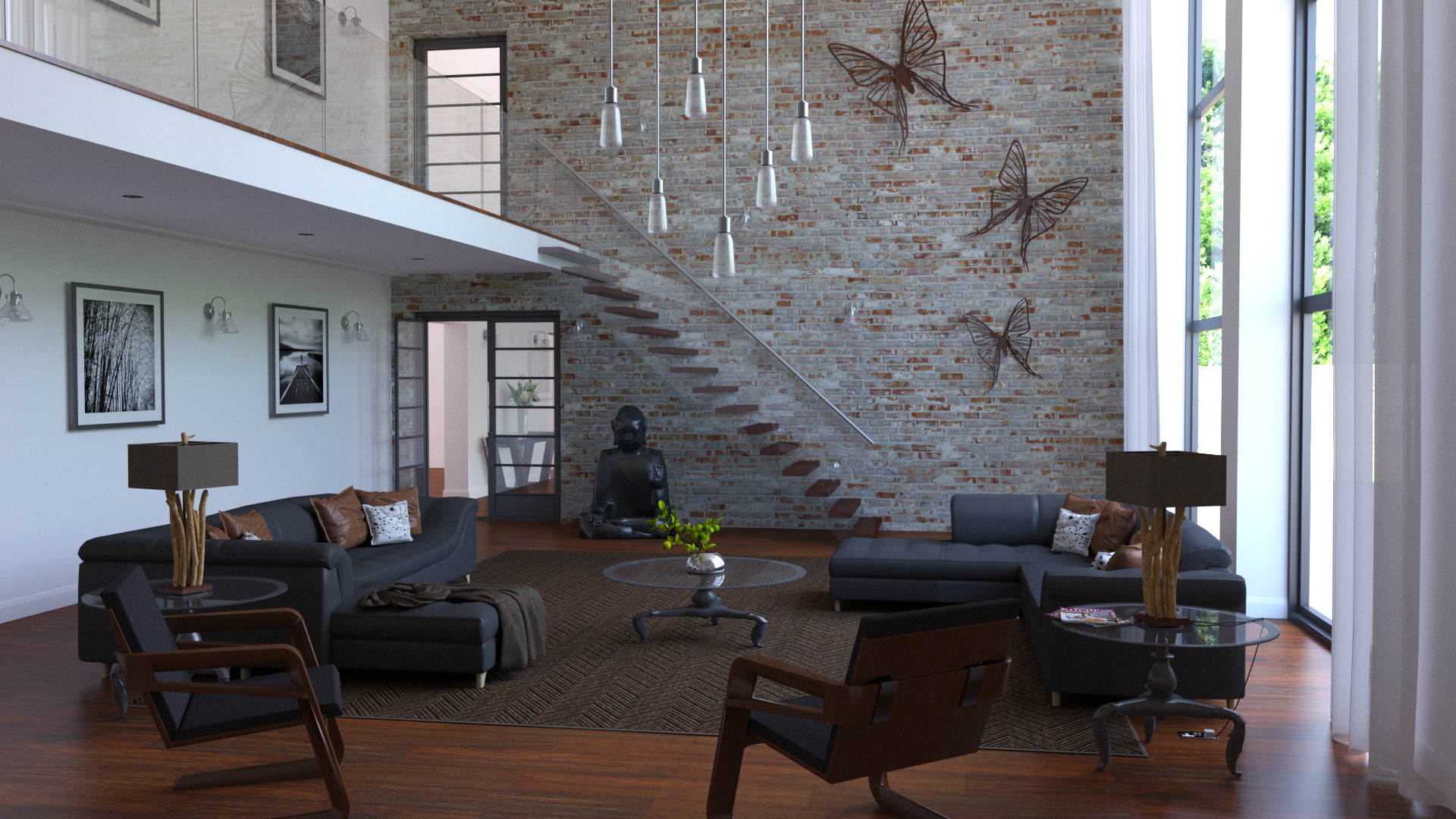 Architectural scene rendered with Iray+ and the ProWalker GPU plugin in SketchUp
Want to gain an understanding of how our Iray SDK works? Click here for any further information and fill out the contact form if you are interested