Here at Lightworks, we endeavour to provide customised projects for businesses looking to use visualisation technology in their company. Earlier this year we teamed up with jewellery brand Clogau to create a suite of digital and animated content to showcase their best-selling pieces.
Constant developments in technology, designed to enhance customer experience and create flexible applications, are having an effect across many industries and jewellery is no exception. Styles and trends are changing more rapidly than ever. With the proliferation of social media customers are more connected and are constantly exposed to frequently changing trends. Consumers demand a more engaging and interactive shopping experience to fulfil their expectations of customisation and personalisation. Businesses have to keep up with the continuously shifting preferences to provide this expectation of individuality.
Ken Jones, Marketing Manager at Clogau, outlines this as he states; "the challenges of digital remain keeping everything up-to-date and keeping up with the pace of change, both in technology and consumer online consumption habits."
This is especially prevalent within the high-end, luxury jewellery market. Customers need to be persuaded to part with their money, particularly when buying an expensive product. The need to differentiate from competitors, deliver an engaging customer experience and make the most of digital channels is vital for any business trying to achieve this. The use of digitally created visuals helped Clogau to achieve these goals through the creative services available at Lightworks, underpinned by world-leading visualisation technology.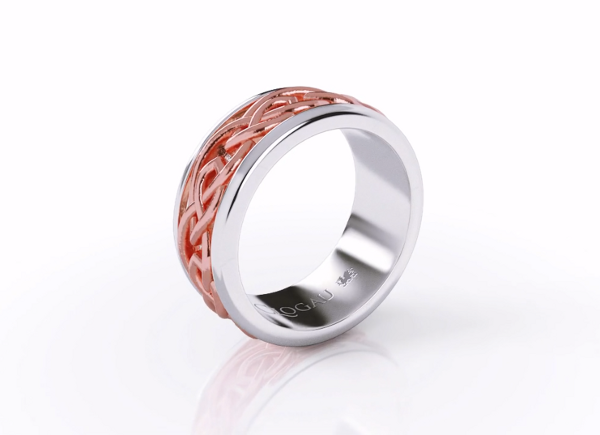 Clogau - Differentiation using technology
Clogau is one of the fastest growing jewellery brands in the UK. Founded in the early 1990s, with an original range of five pieces of jewellery, Clogau is now one of the leading jewellery brands in Britain. They are known for the inclusion of rare Welsh gold in every piece, the same gold that has been used by British Royalty for over 100 years. As a dynamic and innovative company, Clogau are at the forefront of British jewellery companies looking to utilise visualisation technology.
Clogau have consistently understood the importance of technology and digital channels. Using the latest digital technology they took advantage of the benefits created by the first wave of ecommerce. As technology has evolved and advanced, Clogau have used the opportunities available to help them grow as a business. Each month 80-90% of Clogau's direct revenue comes from their ecommerce website as customers choose to browse and purchase products online.
Ken advocates how Clogau have taken advantage of technical advances and outlines how; "as a company we have always seen the potential that digital offers – in terms of reach, speed, control and cost."
The team at Clogau decided to use our creative services to integrate digitally created visuals into their ecommerce site. They identified that using digital content would assist them in distinguishing themselves from competitors, with the aim of increasing the amount of sales online. In this instance, Clogau wanted to increase the conversion rate for online sales by making their products more engaging and interactive. To make this happen we used our visualisation technology, Iray⁺, to create images, animations and 360° product turntables of Clogau's jewellery.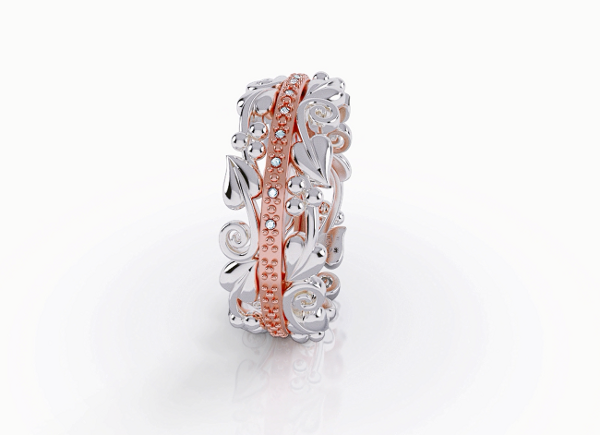 Visualisation - what the technology did for Clogau
Here at Lightworks we tailor each project to meet specific company needs. Clogau's aim was to increase the online conversion rate through the use of 360° product turntables and animated content. Increased interaction with the product will encourage online sales as the customer can clearly see the intricate design and unique features of each item of jewellery at the online point-of-sale. Our technology, Iray⁺, truly represents lighting and materials; the digital images of the jewellery react to these features as they would in the real world.
To start the process, Clogau provided our creative team with CAD data of their jewellery so we could create a test image. Once they were satisfied with the photorealistic quality of the image, we moved onto creating animations of their best selling pieces. We used our state of the art visualisation technology, Iray⁺, to create photorealistic digital content. As our technology is physically based, it means all content we produce shows materials as they appear in the real world. Once the images were checked for lighting, reflections and consistency, Clogau were sent the 360° product turntables for use on their website.
The end result of the project was stunning photorealistic images and 360° product turntables, designed so customers can interact with Clogau jewellery and see the true quality of the design and the lustre of the gold. These are the only products that can be navigated in this manner on the Clogau website, creating a stronger relationship and greater interaction between the customer and the jewellery. The collateral can be used across multiple marketing channels - at trade shows to display the intricate features of Clogau's jewellery, shared across social media platforms to engage customers or at the point-of-sale to enhance the brand and retail experience.
The next step
Clogau are running split testing on their webpages to see what effect the product animations have on sales and conversion rates - we'll update you once the results are in. Currently Clogau are enjoying the high quality images provided, using them to enhance their brand across digital channels by making their jewellery more visible and engaging.
Whilst it is important to see if there is statistical evidence of an increased conversion rate for Clogau, they have taken a major step in starting to integrate world-leading visualisation technology, and creative services, into their company.
With new and improved ways of enhancing visual aspects for many businesses, we will work with Clogau to make sure their stunning jewellery is being represented as well as possible using our visual technology.
At Lightworks we have the technology and expertise to bring high-quality visuals into businesses and create customised projects built to match the customer's specific needs. From configurators to animated content, we have the tools to create visuals and applications to satisfy any requirements. Please contact one of the team to discuss your requirements.