In the last of our series of blogs focusing on creative services, we explore configurators and how they give customers a creative and dynamic way of interacting with a product, business and brand.
Everyone has a favourite pizza topping. Whether that be ham and mushroom, pepperoni or – if you're one of those strange people with odd tastes –anchovies. When ordering a pizza people have the ability to create a pizza moulded to their individual likes, and they enjoy the meal because it has been made to their precise specifications. This has been the process in pizza making for generations and it's probably one of the reasons it's so popular today. Now, this expectation of personalisation has spread through into a cacophony of different industries, with customers wanting to add a personal touch to any product they can. With the spread of customisation, configurators are the ultimate tool to give customers the individuality they desire.
Configurators allow customers to co-design a product, making changes to an interactive image of the item, adding and removing components whilst changing colours, materials, designs and much more. A configurator is a custom built application that produces a photorealistic digital representation of a product. When an amendment is made to the product, the image represents this change in real-time. Customers can play about with different design options on a digital representation of the product until they have found their perfect combination. Take for example, this sofa configurator developed by RAFT in London. A customer can pick the size and design of the sofa to create a base product and then pick from a myriad of different materials and textures to create their ideal design. Whilst changes are being made to the sofa, the configurator displays both how the changes look and how they affect the final price. Configurators can be linked to both price and ordering systems, meaning the overall shopping process is streamlined. The customer experience is enhanced dramatically through this engaging and interactive process.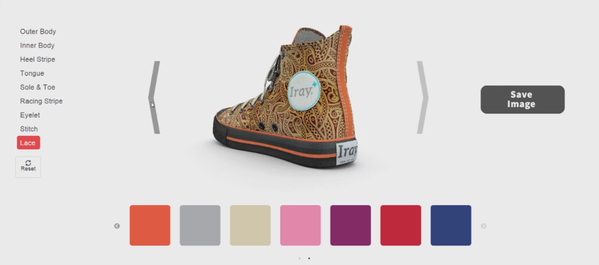 Configurators give customers the personalisation and creativity they long for from the modern market, and are more likely to pay a slightly increased price for a product they have created themselves. Social media and digital advertising have made it even easier for a company to inform and advertise their configurators. As final designs created using the configurator can be shared over social media, customers extend the advertising reach of the configurator and the company's brand by sharing their personal designs.
Configurators help boost online sales as through the increased interaction with the product, customers are more likely to purchase the final result. In a marketing experiment it was proven that customers who visit a product which had no customisable elements had a conversation rate of less than 2%, whilst customers who could configure the same product had a conversion rate of 11.74%. Customers want personalisation from their shopping experience and are prepared to pay more for a personalised product.
The overall online shopping experience is dramatically more engaging through the usage of a configurator. Whilst they can increase sales, customers can also interact with a brand further and are likely to spend more time on a webpage playing about with a customisable project. The company also gain more data on the customer's likes and preferences and can use this for targeted advertising. For instance a customer could spend a huge amount of time on the Adidias shoe configurator because playing with multitude of different designs and iterations available. If a customer chooses a design featuring the numerous Star Wars options available, the website will then record this data and advertise further Star War products to that specific customer. With a configurator a customer has the ability to pick and choose almost all aesthetic elements of a product; spending as much time as possible learning what designs, colours and materials work best for them before making any final design designs. If someone else doesn't like it, it doesn't matter. They've created a product that represents their individual creativity.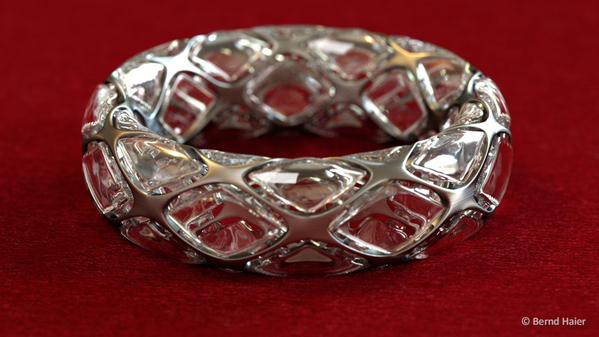 More and more companies are using configurators to allow customers to customise their products, and configurator applications themselves are becoming more developed. Configurators have been prevalent in the automotive industry for many years and now Mercedes has developed the 'Lifestyle configurator'. The intension of this configurator is to make the process of buying a car as easy as possible for the customer, whilst still giving them creative freedom. Automotive configurators can get confusing and time consuming for someone without technical knowledge of cars, due to the extensive amount of options regarding engines, additional equipment etc... The configurator creates a personal profile through a series of questions about preferences towards music, architecture, sports and others which are entered into an algorithm which short-lists the most appropriate five cars. The customer can then browse the recommended cars and make further changes in real-time if they wish. This sort of configurator guides the customer through the process whilst still keeping the customisation element.
Configurators give customers the personalisation they want from a product. If they want a pair of yellow and mauve shoes with SOFA1989 emblazed on the side, so be it. Customers are given the opportunity to design a product to their own preference whilst seeing their changes appear on a visualisation of the product. As individuality is a staple expectation of the modern consumer, configurators give them ultimate customisation of a product.