From the initial concept through to the latter stages of creating marketing collateral, the development of a new product is a busy and exciting time for any company.
For many businesses, it's also a chance to collaborate with other organisations, outsourcing elements of the workflow to designers deemed to have the right skills and ideas for the job.
However, while subcontracting parts of the design and manufacturing workflow has many positives, such as the chance to bring in fresh ideas while relieving pressure on your businesses' internal resource, what are the risks to your company's intellectual property?
Giving external agencies and individuals access to your product designs at any stage of the workflow requires a huge amount of trust and, often, non-disclosure agreements (NDAs), to provide reassurance not only that the job will be completed on time and to the right standard, but that your company's ideas and designs will be thoroughly protected, too.
So, is the key to complete design protection taking the entire workflow in-house?
Recruiting designers to work directly for your organisation may seem like a costly expense, but when you consider the worth of your company's intellectual property and the risks that come with sharing your ideas and product designs externally, is the investment worth it?
Hiring your own team means you can create a more secure, cohesive workflow that ties together every element of the design process, from the initial concept phase through to taking the product to market.
Working with a bespoke design application that's been created just for your organisation takes it to the next level, allowing a seamless transition between all stages of product design, and removing any workflow disruption caused by outsourcing or switching between different programmes and systems.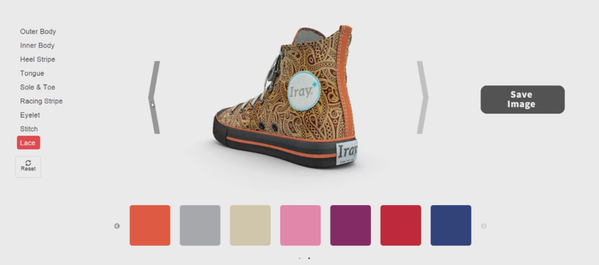 Can a streamlined, integrated workflow help eliminate some of the pressure and risks associated with the design process?
The Iray+ SDK (software development kit) can be integrated into any design process through the development of bespoke design applications and configurators, or integrated into existing CAD applications, producing high-quality 3D renders.
The photo-real and physically-based digital image capabilities enable designers to create accurate visualisations of potential products, meaning the functionality, reliability, quality and aesthetics of the design can be assessed and easily adapted as necessary – without leaving the workflow.
For more information about Iray+ SDK visit www.lightworks-iray.com