It's rarely possible to be left uninspired when industry trailblazers get together to discuss groundbreaking ideas on 3D technologies and their future role in design, engineering and manufacturing. Fortunately, there is a meeting ground covering these distinct but interdependent fields in an unbound and immersive manner with a chance to ignite partnerships: Develop3D Live 2016.
---
This year on 31st March, for the fifth consecutive time, the halls of Warwick Arts Centre were flushed with a vivid audience attending the independent gathering centered around innovative 3D solutions such as VR and AR (Augmented Reality), 3D printing and laser scanning as well as cloud-based CAD and manufacture-focused design practices, just to mention a few. I shared a tech-packed 24 hours with more than 30 guest speakers, nearly 70 exhibitors and over 1,500 info-hungry engineers and designers.
All that being said, one does not simply walk into Develop3D Live without an ambitiously planned schedule of what sessions and stands to visit, otherwise, chances are that you might overlook some truly lofty ideas. I relived an immersive flight experience using the Oculus VR created by London-based creative agency, Rewind, visited the stand of a shape-based search engine, called Yowza, that could hold the key to browsing entire organisational repositories of 3D content in real time, and sat through an intuitive live demo by Boston based DotProduct showcasing 3D point cloud capture achieved by using a handheld NVIDIA Shield tablet.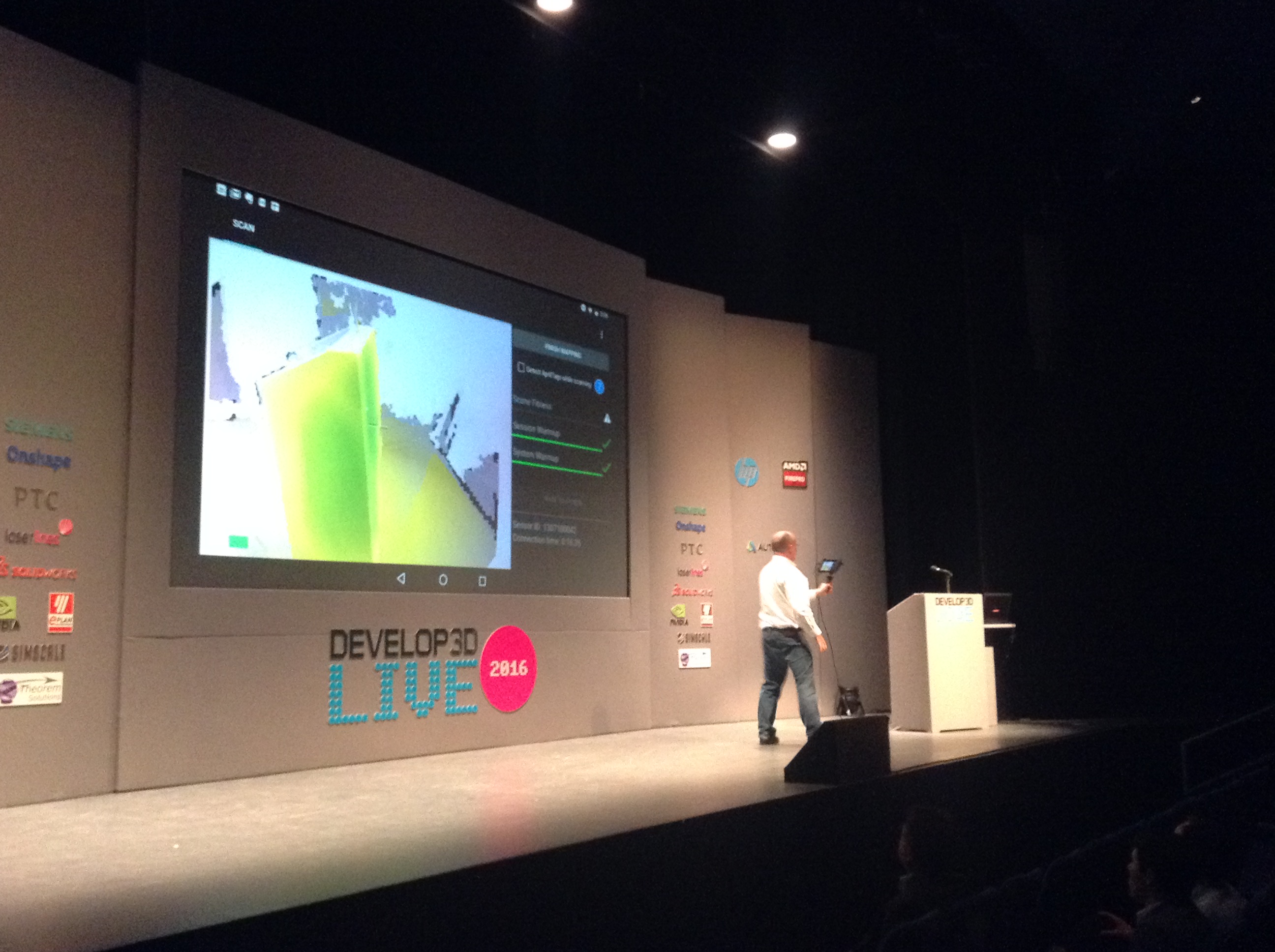 Nevertheless, there's plenty to explore even if schedules go awry: as luckily, the event feels less like a toneless sales conference –much to the delight of many – but rather like a day-long infotainment and networking opportunity. Develop3D Live gives evidence of how emerging 3D trends have and will keep pervading industries as varied as advertising, retail or engineering; linking together a plethora of businesses over continents and disciplines and revolutionising the way we think about product design and development. These are some of the happenings that made my first visit to a technology conference a truly rewarding and inspirational experience.
VR: The Truth is in There
From cinematic entertainment, through product design to advertising, virtual reality and its slightly less misanthropic 'sibling', augmented reality, have undoubtedly attracted an immense amount of attention in recent months. In fact, much of Develop3D's discourse was dedicated to exploring the commercial and industrial potential of said technologies; lining up a whole stream of presentations on the topic.
I was excited to watch the presentation of Vicon CEO, Nick Bolton, and hear about Google's Project Tango, a technology experimenting with 3D motion tracking in the digital space, which is similar to the Oculus Touch controller used in Facebook's recent, mesmerising social VR demo. The eager could get some insight into how creative studio, Rewind, pulled off captivating VR campaigns for Bjork and Lexus with the lead of CEO, Sol Rodgers, who also took time to predict impressive possibilities that Microsoft's AR headset, HoloLens and Lytro's light field photography solutions have in store for us.
Although, VR seems to be the inevitable destination for multiple industries; as demonstrated in wide-reaching examples like Six Flags' gripping Virtual Reality Coaster or NVIDIA's stunningly realistic architectural Iray VR tour, which depicts the company's yet to be built headquarters, the technology is still yet to prove itself. It seems clear however that automotive, live events, healthcare and education are just few of the sectors that this technology harbours major potentials for.
Collaborate, Categorise, Customise
There is an insatiable appetite on the part of businesses engaged in engineering and design processes when it comes to streamlining their workflows, fostering in-house communication and increasing overall efficiency. By taking a closer look at the seemingly unstoppable popularity of cloud-based services such as Dropbox, Salesforce or the increasingly widespread corporate messaging phenomenon, Slack, we can quickly realise why Develop3D dedicated one of its major streams to 'the Cloud'.
Jon Hirschtick, founder of the full-cloud CAD software, Onshape, shared his thoughts on how their 3D solution – adopted by often-mentioned mixed reality initiative, Magic Leap, which works on a head-mounted retinal display – can have a major influence on supply chain management by providing access to a unified work platform that encourages collaboration. Meanwhile, Belgian start-up, Cloudalize, and NVIDIA showcased GPU-accelerated virtual desktops that represent scalable and cost-efficient collaborative workspaces that are resilient alternatives to Autodesk's Fusion 360.
According to Solidworks' CEO, Gian Paulo Bassi, the importance of function has been replaced by a sense of emotional attachment when it comes to creating products; leading to more flexible, consumer-centric methods of design and manufacturing. We visited the conference to demo our latest 3D product configurator created with our photorealistic rendering technology, Iray®+; enabling customers to compare and customise product offerings in real-time or on the cloud. Therefore, I was interested in a new material scanning and rendering solution, called VRscans, which proved to be a visually stunning walkthrough of how complex materials – such as chromes or leathers – can be digitally captured in order to produce physically correct results.
Perhaps, one of the most exciting new ideas I came across was Yowza, a 3D shape-based content search engine. By 'teaching' computers how to recognise unique details of shapes that make objects similar or different from each other, the company promises to offer a rapid, real-time solution for building and indexing 3D corporate content repositories – a challenge also addressed in the talk held by IKEA, that created a full CG image library for its immense collection of products – ultimately blurring the boundaries between CAD, 3D visualisation and additive manufacturing.
When Design Comes Alive
Apart from Develop3D's indisputable purpose of racking up sales figures, the conference reassuringly did a good job in raising awareness for truly inspiring stories that are worth sharing with those, who feel passionate about their work in the industry. While Philip Norman from Ross Robotics shed light on some invaluable insights about his nature-based inspiration for robotic design, cycling enthusiasts could hear about an "exoskeleton arm brace created for paralysed mountain bikers", and I could also get my hands on the HP Sprout Pro blended reality ecosystem designed to provide interactive, client-engaging presentations and an entirely different design experience for CAD professionals.
It really feels as if it's just a matter of time until such technologies and ideas become interlinked and compatible with each other to provide designers, engineers as well as end users with genuinely immersive and exciting experiences that could effectively reshape product development and manufacturing in the coming years.