When it comes to the jewellery industry, image is everything. The latest styles, stones and sparkles need to be marketed to perfection, using high quality images to showcase the look, feel and desirability of each item.
For jewellery that's manufactured in small quantities and is either a one-off piece or part of a limited range, achieving these images may seem straight forward.
But, with larger ranges of jewellery that are manufactured to provide a wide range of material options and different design features, such as a choice of precious metals, stones or charms, showcasing a large product portfolio can be a costly exercise.
Iray+'s 3D rendering technology enables those working in the jewellery industry to create stunning, realistic 3D visualisations of their products, using physically-accurate materials and real-world lighting simulations to bring images to life, without the cost and time that comes with arranging real-life and often multiple photo shoots.
Marketing materials that match
Whether it's a ring that's available in gold, silver and platinum, or a necklace that comes with a choice of precious stones embedded, having high quality images that demonstrate the variety of choice on offer to customers is essential – be it for inclusion in a marketing brochure, an online shop or as part of a point of sale configurator.
Iray+ allows the user to build their own physically-based materials, either from Iray+'s comprehensive library or from scratch, using a wide range of base material layers, colours, textures and finishes.
Both manmade and natural materials can be added to the product and the scene, demonstrating in stunning realism how the product will look in its natural environment, and ensuring consistency between the marketing imagery and how the product looks and acts in the real world.
Thanks to the technology's fast rendering capabilities too, different material choices can be switched between quickly, meaning a range of realistic, high quality marketing images can be captured fast, without the cost and time incurred by using multiple products as part of a real-life photo shoot.
Shining a light on 3D imaging
Using Iray+'s physical sky feature and image-based lighting capabilities, users can also test and showcase how the product will look under different lighting conditions, demonstrating in real-time how factors such as sunlight and artificial lighting will react and impact on the product's appearance.
Not only is this capability useful during the marketing phase, when adjusting the position, background and intensity of the light source can help create an enhanced end image or simulation, but during the product's development phase, too.
By allowing the user to test how different temperatures and lighting sources will impact on the object's appearance and composition, and where reflections, glare and shadows will occur, design changes can be made throughout the workflow to ensure an end product that meets both internal and external customers' expectations.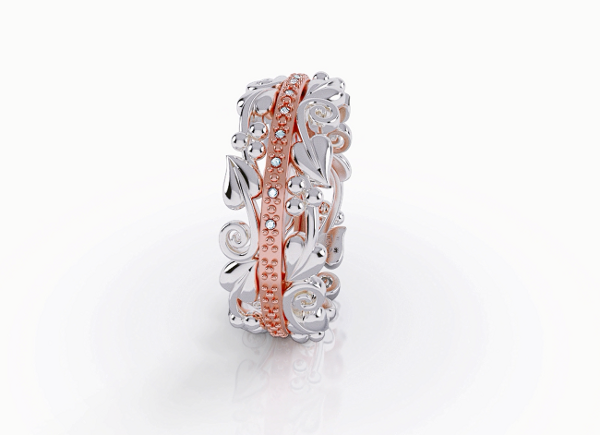 Intuitive interaction
Of course, for many jewellery designers and manufacturers, allowing the customer to participate in the creation of their item is a key part of securing the sale.
From switching charms on a bracelet to selecting the right stone for an engagement ring, the Iray+ SDK (software development kit) allows us to build bespoke point-of-sale configurators, using physically accurate images and simulations, for use either online or in the store environment.
Its photoreal rendering capabilities, combined with the physically-based materials and image-based lighting means different design options are brought to life through high-quality, realistic 3D visuals.
Customers can then interact with the product either themselves or as part of a consultation, tweaking design features to create jewellery that matches their budget and style requirements, with the reassurance that what they see is what they get.
To find out more about the Iray+ SDK, visit www.lightworks-iray.com. Or, to buy Iray for 3ds Max, visit www.nvidia.com/object/iray-for-3ds-max.html