As part of a new series, we have been exploring the incredible work the alias community have been working on. The first piece is based on the work of Moustafa Elewa; Moustafa has been working on a Ferrari F12 model, paying close attention to every fine detail, shape and curvature of the car. We're happy to share Moustafas work with you and look forward to bring you the next one.
How did you get into Alias Modeling?
It is a long story and started when I was a kid. I loved drawing things, making origami and 3D models from paper. When I was in high school, My dad purchased our first PC and I remember seeing him working on AutoCAD (he was a civil engineer) and I instantly felt curious about 3D computer modelling. When I attended university, I began to surf the internet frequently, reading about the 3D modelling world and instantly feeling excited about it. At first, I had been using 3D studio max. I was following free tutorials on the internet and was particularly interested in car modelling. After a while, I was capable of modeling a full poly car pretty well, but have never been satisfied with reflection quality of the surfaces generated by this method. I knew that pushing vertices on and off would never yield the stunning surface quality seen in real life cars. At this point, I knew nothing about NURBS until I saw pictures of vehicles on the internet modelled in NURBS. It was at that point which I dived into NURBS world and class A surfacing and how to achieve these unparalleled reflections.
How did you create your model?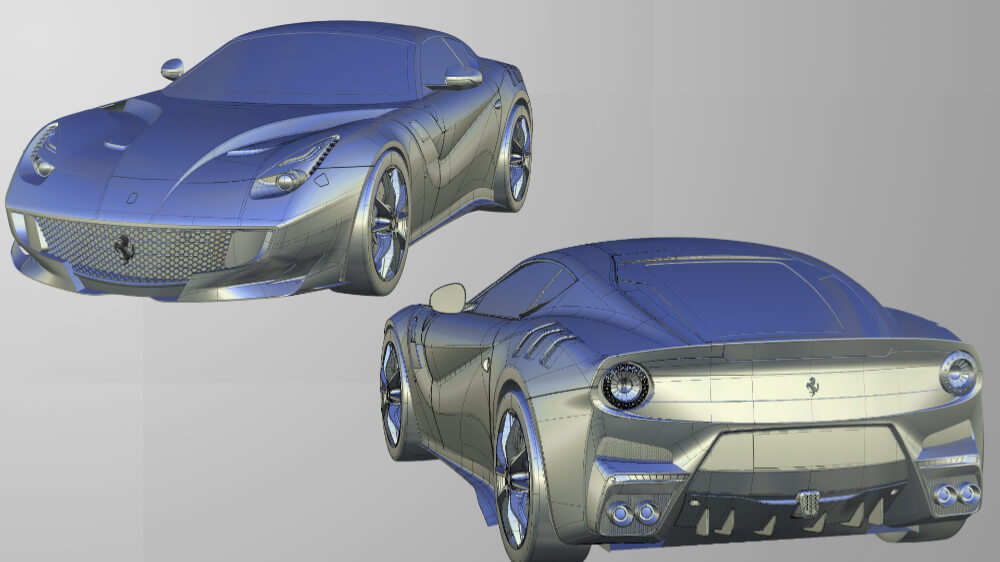 Although there are a growing number of educational materials for Alias, most of it only covers the basics, it is not enough to make you model a whole car from scratch. It gives you a platform to build from, but you need to walk on your own two feet; you need to perceive how things are working in NURBS world.
It's like a digital analog of manual sculpting, where you are the sculptor. Alias creates the wireframe and clay moulds it all together. The only essential difference is unlike clay's elastic nature, digital surfacing should be a Bézier. While you form the clay directly with hands, you deal with CVs and curvature in the programme. If you want to manually sculpt a car, you begin with a ball of clay and carve details off bit by bit; the same goes for surfacing.
Start with the most primitive shape that encloses your car volume (theoretical surfaces), then start to add details. To work toward this, I had gone through hundreds of hours of practice. I got help from real toy models and pinned tens of model images to study surfaces' behavior and of course, I got some great tips from social media and online friends.
This Ferrari model was a tough challenge; it is also an educational project where I repeated the surfacing process so many times, writing down my notes each time. It took me around 6 months and on average 2 hours a day until I got the desired surface quality.
What other projects are you working on?
I have almost finished a number of projects right now besides the Ferrari. I did a Jaguar F-pace exterior which is a special one. For this project, I focused on 2 things:
Enhancing the surface quality.

Implementing more generative design using Dynamo which was an important addition to Alias 2019.
In the Jaguar model, you can instantly see that the surface became lighter and better, as well as the fine details of grills, headlamps and tires pattern, which was all done by Dynamo.
I also modelled a concept car that was designed by a junior talented designer, he provided me with sketches and the polymesh as well. That project only lacks the final touches and I am going to publish it. Finally, I have started another project for Bentley car (full interior and exterior), and the aim of this project is to get a Class A quality surface within a tight time schedule, I am challenging myself to imitate the tensive atmosphere found inside design studios.
What project do you want to work on in the future?
My next step is slightly different from CAD modeling; I am in the middle of getting my hands on some industrial clay with a sculpting toolset. I think it would be advantageous to sculpt miniature cars with my hands to feel every little detail and nuance of the surface, which will hopefully strengthen my ability to think in 3D. Professionals always stress about the importance of clay modeling in the design process and I'm keen to give it a try.
Back to the digital side, I'm also planning to get more involved in modelling concepts rather than existing cars. I am going to look for collaborative work with designers to further strengthen my abilities to model directly through sketches with frequent models changes.
What are your goals and aspiration for the future?
Being a professional digital modeller is my wish. I have dreamed so long of being a car designer, a path which has been a difficult one. I have had to understand the complexity of automotive surfaces and gain modeling skills to get to where I am now. It has been a long journey, and my passion never fades.My skills in Autodesk Alias, Vred and Dynamo and Catia have come a long way and I am now really eager to continue to pursue a career in the Automotive Design Industry.
Want to take a look at Moustafas work? Head over to his Behance account to see what he's been upto. If you would like to know more about SLIPSTREAM, require more information or have additional questions, find out how it works here or get in touch with a member of the team today.

Behance: https://www.behance.net/surfacerau1d6c
← Back to SLIPSTREAM News