Iray+ Frame Buffer
The Iray+ Frame Buffer can be used to display ActiveShade or Production renders instead of the default 3ds Max frame buffer and provides additional flexibility and functionality.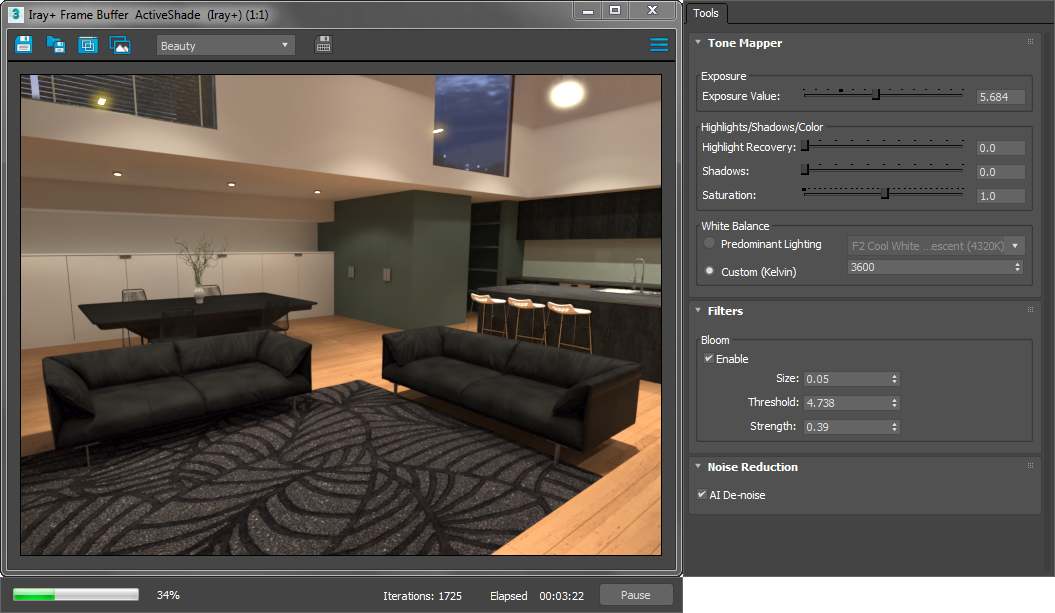 With the Iray+ Frame Buffer you can preview and switch between Render Elements and LPE layers using the dropdown control. The layers must first be enabled on the Render Elements tab to be selectable. Once selected, you can switch between them whilst rendering and save out the individual layers as you see fit (also in raw form where appropriate). You can also clone the Frame Buffer window to display multiple layers simultaneously.
The pop-out Tools menu allows quick access to the tone mapper, bloom filter and AI denoiser controls, as well as relevant controls when performing Lighting Analysis. All the controls available on the Tools menu can be used during rendering without causing the render to restart.
The Frame Buffer can be enabled from the Settings tab and you can enable it for Production renders, ActiveShade, or both. When selected, start a Production render or ActiveShade as normal and the render will be displayed in the Iray+ Frame Buffer instead of the 3ds Max default buffer.
You can also open the Frame Buffer window at any time to view or save any previous render results, including render elements and LPE layers.
Frame Buffer Icon Reference
| Icon | Detail |
| --- | --- |
| | Save Displayed Layer |
| | Save All Layers |
| | Clone Frame Buffer Window |
| | Copy Image to Clipboard |
| | Save Current Layer Raw Data (if applicable) |
| | Toggle Tools Menu |
▲
---
Page Last Edited: