Physical Sky
PhysicalSky generates a physically realistic, high dynamic range sky dome around a scene so you can create stills and animations for any time of the day at any location in the world.
An alternative is to use an IBL light using your own HDRI.
Adding a light

Create
Panel ➤

Lights ➤

Dropdown ➤
PhysSky
Physical Sky Parameters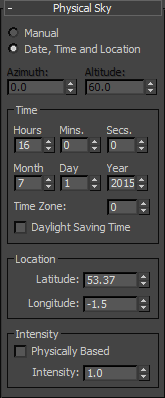 Manual
Azimuth: The angle of the sun around the horizon measured clockwise from North
Altitude: The elevation in degrees of the sun in the sky between the horizon and the zenith (the point directly overhead).
Date, Time & Location
Time: Set the time, date and time zone of your location, and give the option of observing Daylight Saving Time
Location: Set the Longitude and Latitude of your location
Intensity
Physically Based: Fixes certain parameters to physically accurate values, these parameters are Intensity, Haze, Glow and Red Shift parameters.
Intensity: Increases or decreases the brightness of the scene, values other than 1.0 are not physically accurate.
Appearance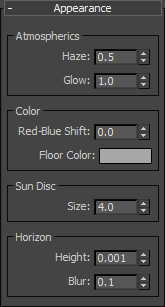 Atmospherics
Haze: Simulates the effect of particulates in the atmosphere. Low values will give a clear sky, while the higher values will increase the effect of light scattering
Glow: Affects the size and softness of the glow around the sun disc, at 0.0, the sun will look sharp. The higher the value the larger and blurrier the sun disc will appear.
Color
Red-Blue Shift: Controls the appearance of red in the sky. Can be used to create more dramatic sunrise and sunsets
Floor Color: Controls the color appearance of the floor.
Sun Disc
Size: Changes the size of the sun disc, this does not affect the amount of light in the scene only the physical appearance.
Horizon
Horizon: Controls the height of the horizon line
Horizon Blur: Softens the horizon line and blends it with the sky.
Ground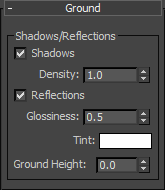 Shadow/Reflections
Shadows: Toggle for shadow visibility on the ground plane of your environment

Density: Controls the strength (darkness) of the shadow

Reflections: Toggle for reflections on the ground plane of your environment.

Glossiness: Range is from 0 to 10,000,000 - 0 gives diffuse reflections and 10,000,000 gives perfect mirror reflections, with numbers in between giving varying degrees of glossiness

✱

Note: Iray+ Interactive

renderer does not display varying degrees of glossiness — in general, glossiness will not be displayed except for values greater than 20,000, when perfect mirror is used.

Tint: Adds a color to the reflection

Ground Height: Defines where the ground plane is on your model. Change this if the base of your model is not sitting on the ground plane correctly.
✱
Note:
Iray allows one Physical Sky or
IBL
environment to contribute to lighting at one time, however you can add and keep as many inside the scene as your require. To choose the active environment when there is more than one in the scene, use the
Active Environment
setting in
Settings
.
▲
---
Light Details
See Also:
Page Last Edited: